IMPORTANT - PLEASE READ CAREFULLY: This End User License Agreement ("Agreement") is a legal contract between you as an individual or business organisation ("you") and Remco Software Limited, a New Zealand limited company ("Licensor") for the NCrunch for Visual Studio software, including any associated media, printed materials and electronic documentation (the "Software").
By clicking on the "I ACCEPT" button, by opening the package that contains the Software, or by copying, downloading, accessing or otherwise using the Software, you agree to be bound by the terms of this Agreement and you represent that you are authorised to enter into this Agreement on behalf of yourself or your business organisation.
If you do not wish to be bound by the terms of this Agreement, You may not install, access or use the Software.
The Software is packaged with components and software licensed from a number of third party licensors, including The Gallio Project. Acknowledgements have been provided to the authors of many third party components within the 'Acknowledgments Page', accessible from the 'About' page inside the Software application. This Agreement does not apply to the Gallio software components, which are used to provide compatibility with the MbUnit and Xunit test frameworks. The Gallio Project and its components are licensed under the Apache License Version 2.0 – which can be found at http://www.apache.org/licenses/LICENSE-2.0.
TYPES OF LICENSE
During the ordering process, you will be asked to select the type and quantity of license(s) you require:
(a) An Evaluation License permits the Software to be downloaded and used by one individual for a period of 30 days from the date of first use. If you download a copy of the Software without going through the ordering process, then your use of the Software will be subject to the terms of the Evaluation License.
(b) A Named User License, which permits the Software to be downloaded and used by one specifically named individual person.
(b) A Company Seat License, which permits the Software to be installed and used on a per-seat basis within an organisation, up to a maximum of the number of seats purchased.
Specific license terms and conditions for each of these licenses are set out below.
EVALUATION LICENSE
If you have received the Software for purposes of evaluation, regardless of how labelled, the use of the Software is limited to 30 days after first use (the "Evaluation Period"). All evaluation use shall be governed by the terms set forth below.
GRANT OF LICENSE. Licensor grants you a limited, personal, internal use, non-exclusive, non-transferable license to use the Software solely to evaluate its suitability for your internal business or personal requirements during the Evaluation Period. This license may be terminated by the Licensor at any time upon notice to you and will automatically terminate, with or without notice, upon the first to occur of the following: (a) the completion of your evaluation of the Software or (b) the expiration of the Evaluation Period. You may use the Software only for the use described by Licensor.
TRANSFER OF SOFTWARE. You may not, by operation of law or otherwise, transfer any license rights or other interests in the Software.
DISCLAIMER OF WARRANTY. THE SOFTWARE IS PROVIDED ONLY FOR EVALUATION PURPOSES ON AN "AS IS" BASIS. LICENSOR EXPRESSLY DISCLAIMS ALL WARRANTIES, INCLUDING ANY IMPLIED WARRANTIES OF MERCHANTABILITY, FITNESS FOR A PARTICULAR PURPOSE, AND NON-INFRINGEMENT.
LIMITATION OF LIABILITY. IN NO EVENT WILL LICENSOR (INCLUDING ITS LICENSORS) BE LIABLE FOR ANY DAMAGES, INCLUDING LOST PROFITS OR DATA, OR OTHER INCIDENTAL OR CONSEQUENTIAL DAMAGES, ARISING OUT OF THE USE OR INABILITY TO USE THE SOFTWARE OR ANY DATA SUPPLIED THEREWITH, EVEN IF LICENSOR HAS BEEN ADVISED OF THE POSSIBILITY OF SUCH DAMAGES, OR FOR ANY CLAIM BY ANY OTHER PARTY.
COMMERCIAL USE SOFTWARE LICENSE – NAMED USER LICENSE or COMPANY SEAT LICENSE
GRANT OF LICENSE. Upon your payment of the agreed license fees shown on the invoice and/or ordering page, and acceptance of this Agreement, Licensor grants you a limited, non-transferable, non-exclusive license to install and use the Software on the terms and conditions set forth herein in perpetuity.
INTENDED USERS OF THE SOFTWARE. The Software is licensed to provide an automated concurrent testing tool for Visual Studio.NET. It is intended for use by experienced coding professionals, and all input and output should be reviewed carefully by suitably experienced personnel that are able to review, accept or reject any recommendations provided by the Software. For the avoidance of doubt you assume responsibility for the selection of the Software to achieve your intended results, and for the installation, use and results obtained from the Software.
INSTALLATION OF THE SOFTWARE.

If you purchase a Named User License: You may install and use the Software only for your individual internal business or non-business purposes. If you are purchasing a license under the name of a company, you may not purchase a named user license. You may not purchase a named user license if the purchase is to be reimbursed by an organisation (such as an employer).

If you purchase a Company Seat License: A Permitted Number of personnel may use the software for your internal business purposes. "Permitted Number" means a number less than or equal to the number of seats you have purchased and paid for when acquiring the Company Seat License. Different employees or members of your organisation may use the Software, provided that no more than the Permitted Number of employees is using it at any one time.

REGISTRATION KEY. You will be issued with one or more Registration Keys when you purchase a license, which will allow you to download the Software. Registration Keys must not be shared or disclosed with any other person or organisation. You must keep all Registration Keys confidential and secure. If you disclose a Registration Key to any person or organisation, Licensor reserves the right to terminate this Agreement and revoke the license granted to you, without any refund of any license fees paid.
RESTRICTIONS ON USE OF THE SOFTWARE. You may not (a) make the Software available for use by others in any service bureau or similar arrangement; (b) distribute, sublicense, transfer, or lend the Software to any third party; or (c) disassemble or reverse engineer (except in European Union countries, to the extent allowed by law) the Software. You may copy the Software solely for backup/archival purposes, provided that you include all copyright and similar rights notices. Licensor and its licensors retain all right, title, and interest in all copies of the Software. Unauthorized copying and modification of the Software is not permitted.
UPGRADES AND SUPPORT. A Named User License or Company Seat License is eligible for a free upgrade to any major or minor version of the Software released within twelve months of payment of the original license fee. The Software contains an automatic update checker that checks for new versions of the Software regularly by connecting to the Licensor's server – no personally identifiable data is transmitted when doing so, and you may switch this feature off during your configuration of the Software. Other than as set out in this Clause 6, the Licensor has no obligation to provide updates or upgrades to the Software, or otherwise maintain or support the Software.
LIMITED WARRANTY AND DISCLAIMER OF WARRANTY. Licensor warrants that: a. it has the right and authority to grant the rights described in this Agreement; and b. the Software, as provided, will substantially perform the functions described in the documentation when operated in the intended environment for a period of thirty (30) days from the date of delivery (the "Warranty Period").

TO THE MAXIMUM EXTENT PERMITTED BY APPLICABLE LAW, THE WARRANTIES ABOVE ARE EXCLUSIVE AND IN LIEU OF ALL OTHER WARRANTIES, EXPRESS OR IMPLIED. LICENSOR EXPRESSLY DISCLAIMS ANY WARRANTIES OF NON-INFRINGEMENT, MERCHANTABILITY AND FITNESS FOR A PARTICULAR PURPOSE. Licensor does not warrant that the Software will (a) achieve specific results; (b) operate without interruption; (c) be completely secure; or (d) be error free. If you use the Software in the capacity of a consumer, then the provisions of the Consumer Guarantees Act 1993 (or equivalent legislation elsewhere) may apply, instead of or in addition to the limited warranties contained in this Agreement. If you use the Software in the course of business or trade, then you agree that the Consumer Guarantees Act 1993 (or equivalent legislation elsewhere) will not apply and this Agreement sets out the extent of the warranties and remedies made available to you.

OWNERSHIP. This Agreement does not convey to you any rights of ownership in the Software. All right, title, and interest in the Software and in any ideas, know-how, and programs which are developed by Licensor in the course of providing any technical services, including any enhancements or modifications made to the Software, shall at all times remain the property of Licensor or its licensors. You acknowledge and agree that the Software is licensed, not sold. You shall not permit the Software to be accessed or used by anyone other than your employees whose duties require such access or use. You will not remove, modify or alter any of Licensor's or its licensors' copyright, trademark or proprietary rights from any part of the Software.
TRANSFER OF SOFTWARE. You may not transfer, assign or novate this Agreement, any license rights or other interests in the Software to any third party.
LIMITATION OF REMEDY AND LIABILITY. Licensor does not warrant that the functions contained in the Software will meet your requirements or that the operation of the Software will be uninterrupted or error free. During the Warranty Period, in the event of any breach of the warranty outlined in Clause 7(b) above, Licensor's (and its suppliers and licensors), entire liability and your exclusive remedy will be, at Licensor's option, to either, repair or replace the defective Software. If repair or replacement of the software is not possible or feasible, Licensor may (in its discretion) refund any License fees(s) paid.

NEITHER LICENSOR NOR ITS LICENSORS, SHALL BE LIABLE FOR INDIRECT, SPECIAL, INCIDENTAL, OR CONSEQUENTIAL DAMAGES, OR FOR DAMAGE TO SYSTEMS OR DATA, EVEN IF LICENSOR HAS BEEN ADVISED OF THE POSSIBILITY OF SUCH DAMAGES. LICENSOR'S AND ITS LICENSORS' LIABILITY FOR DAMAGES HEREUNDER SHALL IN NO EVENT EXCEED THE AMOUNT OF LICENSE FEES THAT YOU HAVE PAID.

TERMINATION. This license can be terminated by you at any time. If you choose to terminate the license, you will not be entitled to any refund of the license fee(s) you have paid. Your license may be terminated by Licensor if (a) you fail to make payment and/or (b) you fail to comply with the terms of this Agreement within ten (10) days after receipt of written notice of such failure. In the event of termination, you must cease using the Software, destroy all copies of the Software (including copies in storage media) and certify such destruction to Licensor. This requirement applies to all copies in any form, partial or complete. Upon the effective date of any termination, you relinquish all rights granted under this Agreement.
RELATIONSHIP OF PARTIES. You and Licensor are independent parties. Nothing in this Agreement shall be construed as making you an employee, agent or legal representative of Licensor.
NO THIRD-PARTY BENEFICIARIES. There are no third-party beneficiaries of this Agreement.
CONTROLLING LAW. This Agreement will be governed by the laws of New Zealand and you submit to the jurisdiction of the High Court of New Zealand. This Agreement is not subject to the United Nations Convention on Contracts for the Sale of Goods.
PAYMENT TERMS. All fees are to be paid in US dollars and are non-refundable.
TAXES. All fees exclude taxes unless stated otherwise. If Licensor is required to pay any sales, use, GST, VAT, import or other taxes in connection with your purchase of the Software, other than taxes based on Licensor's income, such taxes will be billed to and paid by you.
ENTIRE AGREEMENT. This Agreement constitutes the complete and entire understanding and agreement of all terms, conditions and representations between you and Licensor with respect to the Software and may be modified only in writing by both parties. No term or condition contained in your purchase order will apply unless expressly accepted by Licensor in writing. Failure to prosecute a party's rights will not constitute a waiver of any other breach.
If any provision of this Agreement is found to be invalid, it will be enforced to the extent permissible and the remainder of this Agreement will remain in full effect. This Agreement has been written in the English language and you waive any rights you may have under the law of your country or province to have this Agreement written in any other language.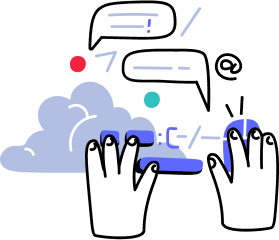 Take NCrunch for a spin
Do your fingers a favour and supercharge your testing workflow
Free Download